This is our All in One Home Automation project version2 , that will help you to control upto 4 AC Appliances and also speed of 1 AC Fan with Capacitive fan dimming method using ESP Rainmaker IoT Platform, Manual Switches, IR Remote, Alexa and Google Voice assistant. This project will come pre programmed with ESP Rainmaker firmware so that you no need to program ESP32 board. You just need to refer the documentation that comes with it and you are good to go to use it.
This Home Automation Project Includes:-
ESP32 

                                        

  1pc
Hi-Link HLK 5m05

                      

1pc
DHT11 Module                           1pc
IR Receiver                                  1pc
Screw terminal connector

       

5pcs
5v Relay

                                      

  7pcs
Diode 1N4007

                            

 7pcs
Transistor BC547

                      

 7pcs
Rotary Switch                             1pc
Resistor 330 ohms

                     

7pcs
Slide switch

                                

 1pcs
Male header

                               

1pcs
Capacitor 2.2uf 250v

                 

1pcs
Capacitor 3.3uf 250v

                 

1pcs
Resistor 200k ohms 1/4w

         

2pcs
Resistor 2.2 ohms 1/4w

            

2pcs
Resistor 10k ohms

                    

8pcs
IR Remote                                   1pc
PCB

                                            

 

 

1pc
This project will be shipped with all the components already soldered on the PCB so you don't need to worry about the components, their connections and soldering part.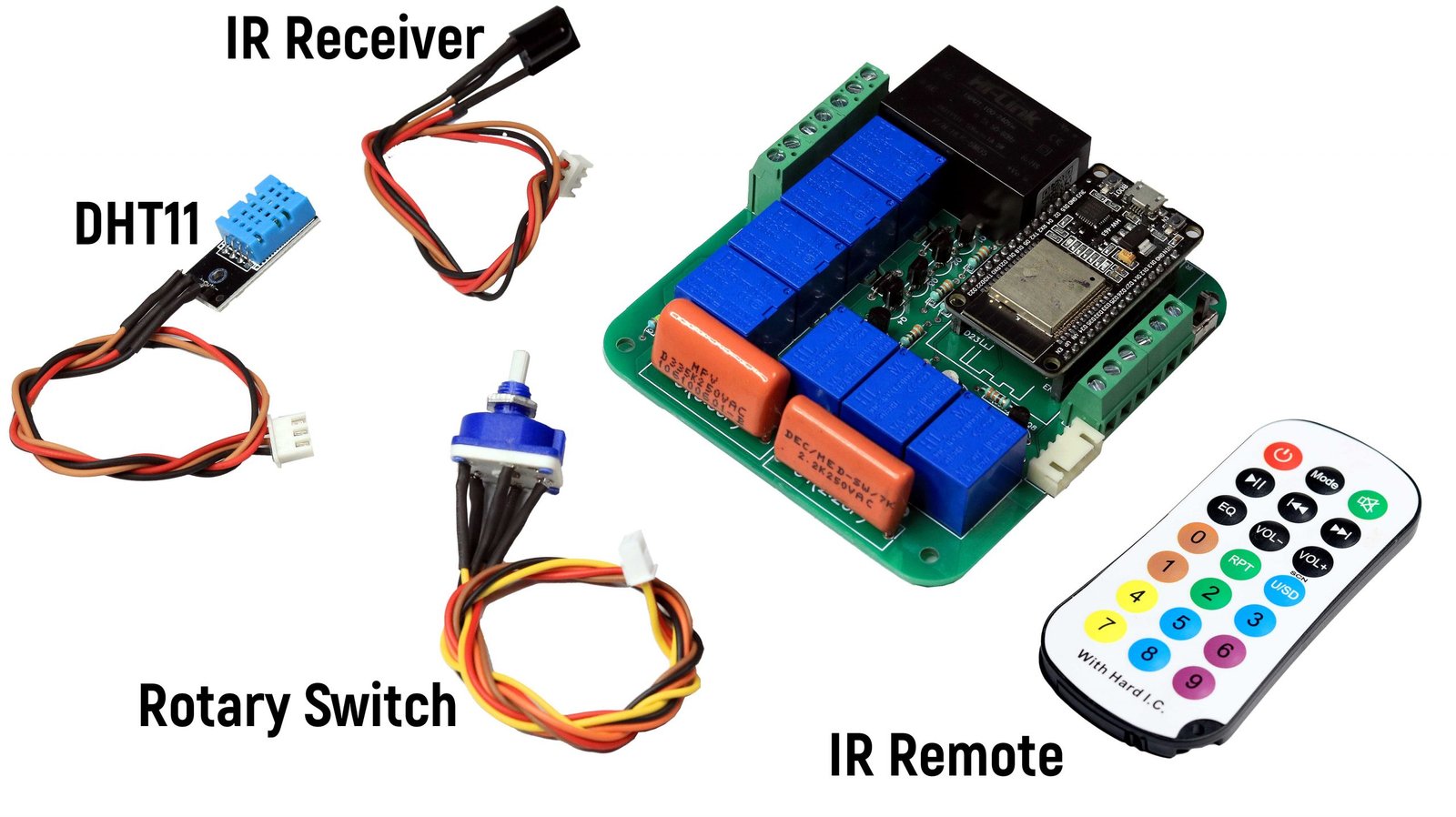 Note:- This is a DIY project and not a commercial product(It's still shipped after completely testing from our end). Its main purpose is to educate people about how the Home Automation systems actually works. As the complete project comes open(without casing), one should handle with utmost care. Any mismatch in wiring may result in Short Circuit or Electric shock. techiesms and their employees are not responsible for any damage occurred to you and your property using this project by your carelessness.