About R307 Optical Fingerprint Reader 
This is the R307 Optical Fingerprint Reader Sensor Module. it can be used with a TTL UART interface for direct connections to microcontroller UART or to PC through MAX232 / USB-Serial adapter. The user can store the fingerprint data in the module and can configure it in 1:1 or 1: N mode for identifying the person.
The Finger Print module can directly interface with a 3.3 or 5v Microcontroller. A level converter (like MAX232) is required for interfacing with the PC serial port. Integrated image collecting and algorithm chip together, the All-in-One Fingerprint reader can conduct secondary development and can be embedded into a variety of end products.
Users can conduct secondary development, which can be embedded into a variety of end products, such as access control, attendance, safety deposit box, and car door locks. Low power consumption, low cost, small size, excellent performance, Professional optical technology, precise module manufacturing technics. Good image processing capabilities can successfully capture an image up to a resolution 500 dpi Finger detection function.
This module consists of an optical sensor, high-speed DSP processor, high-performance fingerprint alignment algorithm, high-capacity FLASH chips, and other hardware and software composition, stable performance, simple structure, fingerprint entry, matching, image processing, search and template storage, and other functions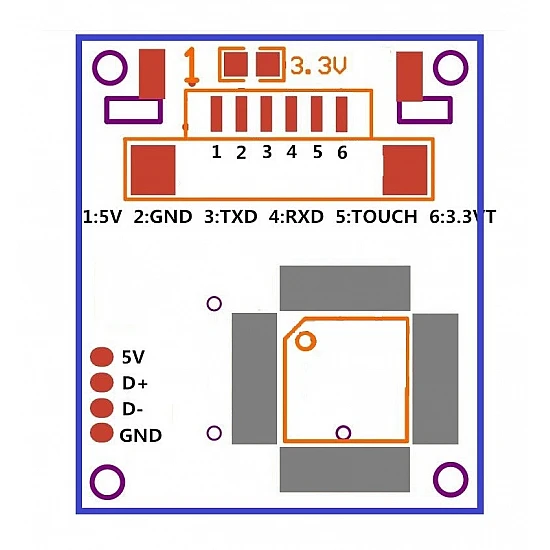 This module has two interfaces TTL UART and USB2.0, USB2.0 interface can be connected to the computer; the RS232 interface is a TTL level, and the default baud rate is 57600, can be changed, refer to a communication protocol; can And microcontrollers, such as ARM, DSP and other serial devices with a connection, 3.3V 5V microcontroller can be connected directly. Needs to connect the computer level conversion, level conversion note, and embodiments such as a MAX232 circuit.
 Features:
Independent fingerprint collection, registration, comparison (1: 1), and search (1: N) function.
Low power consumption of the product
A strong anti-static ability, the anti-static index reached 15KV above.
Professional optical technology, precise module manufacturing techniques
Suitable for different applications, security levels can be set by the user to adjust.
An optical fingerprint scanner works based on the principle of Total Internal Reflection (TIR). In such a scanner, a glass prism is used to facilitate TIR. Light from an LED (usually blue color) is allowed to enter through one face of the prism at a certain angle for the TIR to occur.
The reflected light exits the prism through the other face where a lens and an image sensor (essentially a camera) are placed. When there is no finger on the prism, the light will be completely reflected off from the surface, producing a plain image in the image sensor. When TIR occurs, a small amount of light is leaked to the external medium and it is called the Evanescent Wave. Materials with different refractive indexes (RI) interact with the evanescent wave differently. When we touch a glass surface, only the ridges make good contact with it. The valleys remain separated from the surface by air packets. Our skin and air have different RIs and thus affect the evanescent field differently. This effect is called Frustrated Total Internal Reflection (FTIR). This effect alters the intensities of the internally reflected light and is detected by the image sensor (see this image). The image sensor data is processed to produce a high-contrast image which will be the digital version of the fingerprint.
In capacitive sensors, which are more accurate and less bulky, there is no light involved. Instead, an array of capacitive sensors are arranged on the surface of the sensor and allowed to come in contact with the finger. The ridges and air packets affect the capacitive sensors differently.
The data from the sensor array can be used to generate a digital image of the fingerprint.
Specifications:
| | |
| --- | --- |
| Fingerprint sensor type | Optical |
| Resolution | 500 DPI |
| Interface | USB1.1/UART(TTL logical level) |
| Sensor Life | 100 million times |
| Verification Speed | 0.3 sec |
| Scanning Speed | 0.5 sec |
| Storage capacity | 1000 |
| RS232 communication baud rate | 4800BPS~115200BPS changeable |
| False Acceptance Rate (FAR) | 0.0001% |
| False Rejection Rate (FRR) | 0.1% |
| Matching Method | 1: N |
| Static indicators | 15KVBacklight: bright green |
| Security level | 5 (1,2,3,4,5(highest)) |
| Character file size | 256 bytes |
| Template size | 512 bytes |
| Working current | Typical 50 mA, Peak 80mA |
Pinouts:
| | | |
| --- | --- | --- |
| Pin | Pin Name | Details |
| 1 | 5V | Regulated 5V DC |
| 2 | GND | Common Ground |
| 3 | TXD | Data output – Connect to MCU RX |
| 4 | RXD | Data Input – Connect to MCU TX |
| 5 | TOUCH | Active Low output when there is a touch on the sensor by a finger |
| 6 | 3.3V | Use this wire to give 3.3V to the sensor instead of 5V |
Difference Between R305 (Old) and R307 (New)
| | | |
| --- | --- | --- |
| | R305 | R307 |
| Storage Capacity (Fingerprints) | 250 | 1000 |
| 3.3V Operation | No | Yes |
| USB Operation | No | Yes |
| Finger Detect Output | No | Yes |
Package Content:
1 x wire connector
1 x Finger Print Sensor (R307)
1 x 6 pin RMC Connector with wire